There is hope!
Around me is always light, sun, heat, life. Not everyone is the same, always hear from people that cancer or a terminal illness and touched them. We say we grieve silently for a moment, how can I help them? There is something to do for them? Maybe it's our grandmother, mother of my friend or a child who has not yet discovered the joy of life. But then forget their suffering and return with thoughts from our own.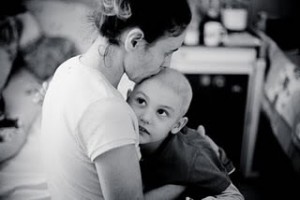 Stop! Today I can also help you on these people. Yes there is hope for them. As they say: Hope dies, we are those who abandon hope!
Now you who read this article have a little patience and read carefully the following lines:
Have you heard of Hospice House of Hope? You would not know it exists?
Yes there is a non-governmental charitable organization founded in Brasov in 1992, the British initiative Perolls Graham. This organization provides specialized care for terminally ill patients in advanced stages.
In 2004, other offices were opened in Bucharest, Bacau, Oradea and Cluj.
What is palitativa care for terminally ill?
Means quality of life. Even if the disease does not respond to treatment, the patient's condition can be improved by controlling troublesome symptoms, pain relief, social services, psychological counseling.
Care in patients' homes. You feel something bad always want to be home, so warm home gives us power to get over obstacles.
Bed unit, in this case the patient is always under medical supervision.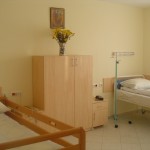 Hospice comes to help women diagnosed with breast cancer after surgery and who have lost a breast or both breasts, and with them and confidence. Such patients are offered free breast prostheses across the country.
Day care center where children's fairyland find lost smile. Day Centre and occupational therapy where the patient is focused on him, do what he likes (drink coffee, play rummy, chess, backgammon, cards, chat, listen to music, whatever makes them happy) and may attend both hospitalized persons beds in the unit and those who can move themselves.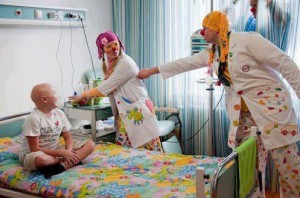 A good thought of a man changed the lives of many people suffering. But can you help them.
We sing, to dance, to buy a ticket or a flower, to participate in sweepstakes, to write an article to publish your own blog, invite friends to join us too. We also donate the 2% to Hospice.
On October 5 to 7 will be held Bucharest International Marathon 2012.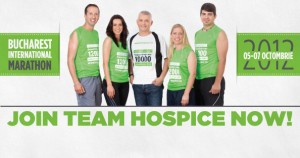 In July of each year is organized Hospice Cross.
In the spring occurs Hospice Table Tennis Tournament.
Every summer after season in Ligue 1, is organized Hospice Group, the largest charity football tournament in Romania.
Takes place every Wednesday at Mojo Music Club the most exciting Hospice Quiz Bucharest.
Each month the ladies have a special party organized for them called Hospice Charity Ladies Club.
In august Day Out is organized Hospice fundraising campaign they are put into competition in Brasov restaurants and terraces.
Recycle for a smile is another campaign organized by the Hospice House of Hope.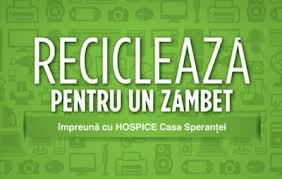 But for those who want to get involved and more educational organization offers a Hospice center for doctors, nurses and others in the knowledge of palliative practices. Is an online course offered palliative care.
Or you can volunteer, volunteer professional. 15 seats are offered for a period of 6 months in different departments.
Now you know, can you remain indifferent?