Have you ever wonder when a ant it's right next to you, what she fells like? Do you think that she is afraid by your stature?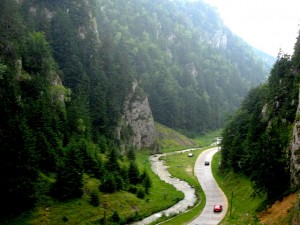 If you want to know how small you are in comparison to the world you live in, you certantly must check you Damvovicioara's Keys on Rucar – Bran lane, it's included on the natural reservation Piatra Craiului. It's a woderfull place for nature lovers, here reunites many of man passions like hiking, cave exploration, birdwatching or if you want to relax this is the perfect place to excape the daily routine, the noises of the big town's, the modern chaos, yourself relaxing in a rented room in one of the Bran Pensions.
I remember when I was for the first time in this part of the country, amazed by the beauty, by the imposing stature of the cliffs, astonished how a river of only 1-2 m wide can create a natural wonder unique in the world. I was only 16 years old wen I went on a roadtrip with my highschool class, and when we arrived everybody was sticked to the window of the bus and from all the noise and screams there was only one exclamation in a choir that sounded like "Oahh".
It was love at first site for everybody, the entrance of the keys looked like a entrance of a big cave that has no end, the walls are closed to each other between 30 – 50 feet and has a diagonal position.
We  rent a bus from EuroCars and the bus driver was going slowly, leaving us to admire the view or he has more scared than us that a rock from above would drop on the bus, but after almost 3 km we've reached your destination, Dambovicioara's Cave. We take a guide, split in 2 groups and we enter, I think he was almost 14 years old and he just ended elementary school, but he talked so openlly about the cave so he captured our attention, especially when he started talking about the history of it, that in the past it was lived by outlaws, afterward by a monk. It followed the main atraction, the geological fornations of the cave, that acording to the guide looked like a bears paw, a wing of an eagle, a tigre's fur. But onestlly I felt like a was at a psychiatrist, the Rorschach test, wen he puts in the front of you a piece of paper smuged with ink, and he asks you what do you see, everybody saw what they want, imagination has no limits.
And we left the cave, tired from all that traveling, we arived at de hostel were we met our accommodations. The host encountered us typical romanian, not with the red carpet but with bread and salt. And to go all well, the host gave us each a glass of plum brandy, a little because we were minors.
The time to eat has arived, what can be more good than cabbage filled with meat, a steak of pork, and to go even better and not to choke, a home made wine, for desert a so so so good sponge cake, I think so the name of the pension "Mama Cozonacilor"
The second day, was a sad day because we left, we sat around a little longer in the court yard, they had a football field (european football J), trouts, pheasants, but how the word goes "A traveler comes, a traveler goes", it was time to go home.
It's a road trip that worths every moment, you wish that this dream will never end, and stay here on these picturesque lands a life time, filled by good and worm people.
Even if you are a local tourist with your personal car, or if you're a foreign one and you chose to rent a car, Damboviciora's Keys it's a destination that you don't want to miss. What can I say about the acces roads, it's ok to go from Bucharest to Targoviste, but after this the road isn't very good, so prepare for holes, dust, slowly driving, but for a local from Bucharest it's just an ordinary day J. For an itinerary I recommend Bucuresti – Targoviste – Cheile Damboviciorei – Rucar – Bran – Brasov – Busteni – Sinaia – Bucuresti, so you covered a beautifull touristic area in our country, but are many more for you to discover.
And a map of the outlaws will take you directly to the destination.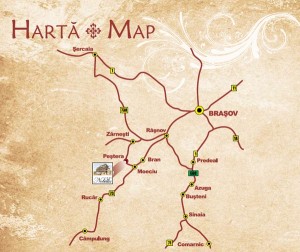 Don't forget Romania "Land Of Choice"!