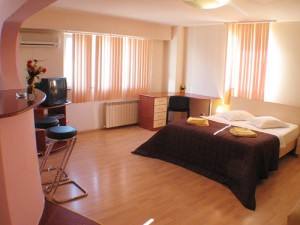 It has been in practice for some years now in Bucharest, and maybe in 2 or 3 bigger towns in Romania, a handy alternative of accommodation in Bucharest on short therm which is the accommodation in rented apartments and studios along the most important areas of the Capital (Unirii Square, Piata Romana, Blvd. Magheru, Blvd. Unirii, Mall Vitan etc), shortly called " short term rental apartment ".
The offer of apartments and rooms for rent in Bucharest is always less expensive than the offer of hotels and even pensions, being perfectly adapted to business tourism or leisure.
What does this accommodation mean and how does it work?
book through rental companies with this field of activity, an apartment (this can be a studio, a 2 – 3 rooms or even 4 rooms apartment).
booking method? usually it's on-line, find it very easy to search different types of companies using words like "rental apartments Bucharest", "accommodation Bucharest", and you will be surprised to see the amount of results, different websites that will help you to get to know their offer, by showing you pictures, prices, conditions etc.
once you have finished the booking, that can be an on-line form or a telephone conversation, you will have to meet the company's agent that is in charge of your reservation and accommodation; in case you arrive at the airport, you should know that most of the companies can offer you also the transfer from Otopeni or Baneasa airport to your accommodation place at a very good price. If you have already a car or use other means of transportation, you can meet the agent at a location easily reachable for you and the agent.
the check in process is simple and quick, in such way that in maximum 5 minutes you will have in your possession all the available facilities in order to feel like home in a pleasant and comfortable atmosphere.
This kind of accommodation has appeared 8 or 10 years ago when hotels in Bucharest were fully booked with clients and had the occasion to practice spicy prices for their services.
This kind of alternative accommodation is being used for a long time now in developed countries like Germany, Spain, United Kingdom, France, USA. At the beginning, the renting apartment accommodation wasn't very credible among Romanian tourists and potential clients were afraid of such services, so most of the people that used this kind of accommodation were foreigners used to this system very common from where they came.
In time, this comfortable alternative gain importance, rental apartments services became noticeable and clients did not wait to appear.
What can a rental apartment accommodation offer more than a hotel?
First of all, confidentiality and intimacy, your information is not public like in a hotel, and most of all, the apartment offers you the "home" feeling – independence.
Position, position. All apartments are located downtown Bucharest, close to restaurants, shops, banks, means of transportation, so surely more properly situated than hotels that are in most of the cases farther from the center.
Cheaper accommodation, the renting apartment accommodation can be 50% cheaper sometimes, compared to the price of a hotel room; if you talk about 4-5 stars hotel you will find it very hard to make such a comparison.
More space, apartments offer you a lot of space, studios can get up to 45 square meters and 2-3 rooms apartments can get up to 80 square meters, surely far away from hotel rooms, with a simple room and bathroom.
Self-catering, apartments have their own fully equipped kitchens, so you can cook when do you like and what do you like, in such way that your stay will become even more personal.
This accommodation system, rent an apartment, is very flexible and can respond to every client's needs. It is also true that it doesn't offer you the safety of a hotel reception, but the reservation number or the one of the contact person that checked you in, is always available.
For sure, you have to know that each accommodation agency has its proper rules, conditions, prices, some can offer you free services, others can charge you double, so please check twice before taking a decision.
Please note that each agency has its own check in / check out procedure, payment methods, extra bed, airport transfer, rules for late check in or early check in / check out, all these optional services being taxed and variable from an agency to another.
With the hope that this information has helped you guys, we wish you a pleasant day ahead!
EastComfort Romana